WHAT IS DOLLY PARTON'S IMAGINATION LIBRARY?
In 1995, Dolly Parton started Imagination Library in her home county in Tennessee to inspire a love of books and reading for all preschool children in the county. 
Dolly envisioned creating a lifelong love of reading, inspiring them to dream. Since the beginning, children from birth to age five receive a free age-appropriate book in the mail every month. The Imagination Library mails more than 1.8 million high-quality, age-appropriate books each month to registered children from birth to age five. The program's impact has been widely researched, and results suggest positive increases in key early childhood literacy metrics.
As of June 2021, Dolly Parton's Imagination Library (DPIL) has mailed more than 161 million books to children in the United States, Australia, Canada, The Republic of Ireland, and the United Kingdom!
HOW DOES IT WORK?
Dolly Parton's Imagination Library partners with local organizations to bring the program to local communities. DPIL covers the overhead and administrative expenses at no cost to local partners. Local affiliates cover the costs for wholesale books and shipping for each child enrolled and registered children to participate.
In Wapello County, registration is provided by the Ottumwa Public Library. United Way of Wapello County provides fiscal management. Funding is currently provided by United Way of Wapello County, Ottumwa Regional Legacy Foundation, and Ottumwa Public Library Foundation. Many other partners are working to promote and support this program for Wapello County families. These partners include Greater Ottumwa Partners in Progress, Mahaska/Wapello Early Childhood Iowa, Ottumwa Regional Legacy Foundation, Riverhills Community Health Center, and Sieda Community Action.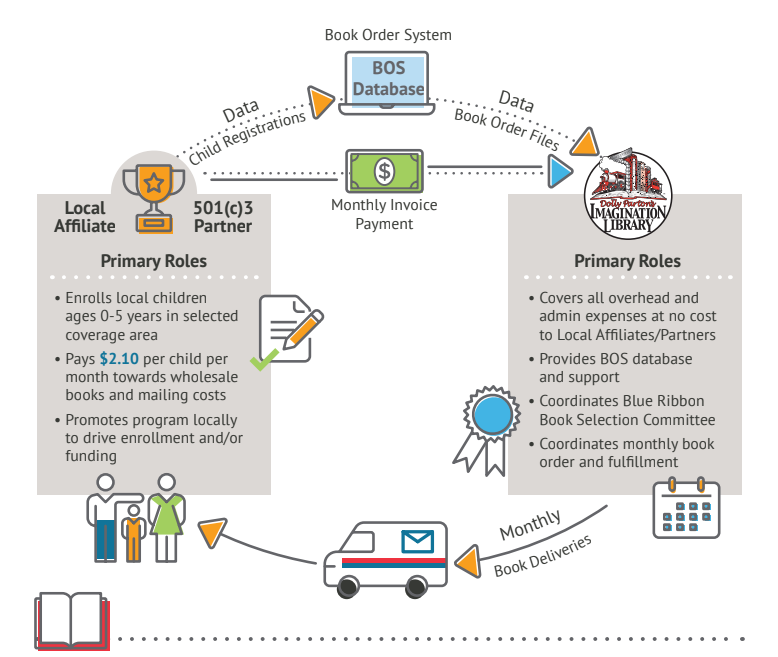 WHY DOES IT MATTER?
Fostering early language and literacy skills is one of the most important things we can do for our children, setting them up for success in school, work, and life. 
Ninety percent of brain development occurs in the first three years of life when a child forms over 1 million new neural connections per second.
When a child enters kindergarten ready for school, there is an 82% chance that the child will master basic skills by age 11 (compared to 45% of those who do not)
At-risk children who do not receive high-quality early childhood experiences are 25% more likely to drop out and 60% less likely to attend college.
Investment in early childhood programs for birth-age five delivers a 7-10% return on investment through improved social and economic outcomes.
Reading with their parents or caregivers provides bonding opportunities and builds social/emotional skills.
GET INVOLVED
FOR FAMILIES
Sign up today! ALL children under the age of five in Wapello County are eligible. Simply submit an official registration form by an authorized adult.

Download and print the brochure and registration form here or apply at the Ottumwa Public Library in person. Completed forms should be submitted by mail or in-person to:

Ottumwa Public Library
102 W. Fourth Street
Ottumwa, Iowa 52501

Books will begin arriving at your home, addressed to your child, within eight to ten weeks! The first book each child receives is "The Little Engine That Could." They will continue to receive a free, age-appropriate book each month until they turn five or move out of Wapello County. To ensure you continue receiving books, make sure to notice Ottumwa Public Library of any address changes. When your child turns five years old, their final book will be "Look Out Kindergarten, Here I Come!"

You can also access resources like age-appropriate tips for reading with children, coloring and activity sheets, and educational videos at the Dolly Parton's Imagination Library Parent Resource page.
FOR DONORS
Local funders and individual donors support this program. The local cost for each child is only $2.10 per month! You can support the program with a one-time or recurring donation. 100% of the funds donated to this program go towards the cost of books and shipping. 
You can make a tax-deductible donation here!